Features:
This is one spring hinge,popular for wood sunglasses,bamboo eyewear,TR-90 eyeglass etc,which is soldering free model and could be installed by spacers,screws and glue only.

Necessary spacers and screws for installing are always matched free.

Unlike all other suppliers,our spacers are made of stainless steel only instead of nickel material,so that you never fear the breaking problem,no matter you are getting headache about it  now or get worried in future. For their difference,we'll upload more photos for your checking.
Material: normal nickel hinge and stainless steel spacers,screws.
Drawing: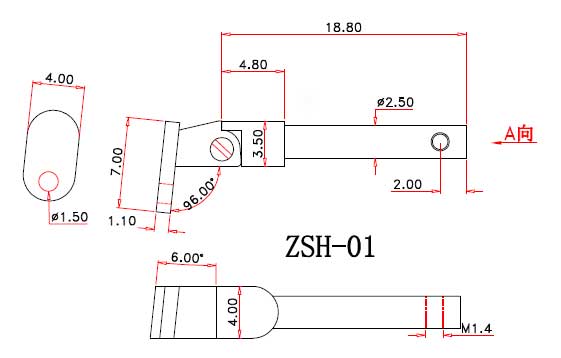 ZSH-01 and ZSH-02:
ZSH-01 is round shape before end round spring holder,while ZSH-02 is square.Except it,all other sizes are exactly same,so is quality.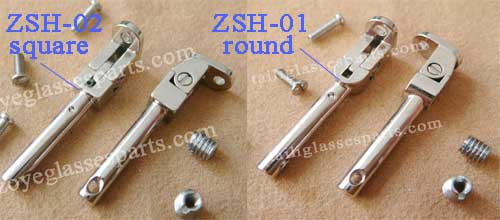 ZSH-02 and TSH-10:
Though their shapes look quite similar, their quality is completely different in raw mateial,spare parts matching,manufacturing way,surface treatment and spring inside etc. We'll upload more detailed information in few days for your easier understanding.
In one word,TSH-10(and TSH- serie) is recommended for high quality market, while ZSH-serie is for lower market.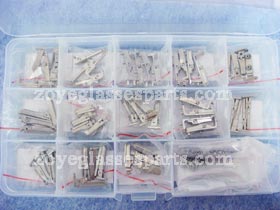 13 types of most popular spring hinges for wood sunglasses,wood eyewear
1. Mode: TAH-15: 125USD/BOX.(MOQ:1 BOX)

2. the most popular and useful spring hinges kit so far for wood sunglasses,including 13 types (TSH-05,TSH-10,TSH-52,TSH-53,TSH-55,TSH-56,TSH-58,TSH-59,TSH-60,TSH-62,TSH-63,TSH-64,TSH-66),2 pairs each,26 pairs totally; Screws necessary for installing are enclosed free for every hinge.

3. great spring hinges kit for wood frames,specially recommend to wood frames designer,or new makers.