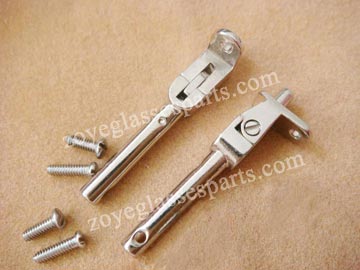 click above to see large image
Ship in 2 working days by express; 5-7 days to be received;
Please ask for one paypal invoice individually if air mail is prefered, 10USD,15-35 days to be received.
Features:
Suitable for wood eyeglass,bamboo frames,TR-90 eyeglass,plastic frames etc.

This model was developped origianlly for lower-requirment market,such as Southeast Asia and Middle east countries where cheaper price is required, yet lower quality is acceptable.
This model has wonderful design idea to install the hinges into frame with glue and screws only, no soldering, no melting.

For every selling, the screws and spacers are matched free.
Unlike all other suppliers,our spacers are made of stainless steel material only,instead of nickel material.
 so that you never fear the breaking problem in use,whatever you are getting headache about it  now or worry about it in future.
for their difference,we'll uploading more photos for your checing.
And  a lot of new hinges will be uploaded continually with wonderful photos for your more choices.
Material: normal nickel hinge with stainless steel spacers and screws.;
Drawing: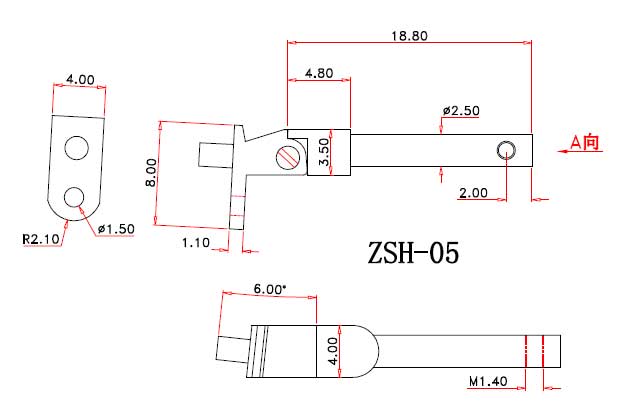 Related hinges you may interested in: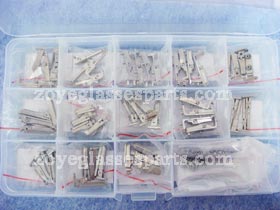 1. Mode: TAH-15: 125USD/BOX.(MOQ:1 BOX)

2. the most popular and useful spring hinges kit so far for wood sunglasses,including 13 types (TSH-05,TSH-10,TSH-52,TSH-53,TSH-55,TSH-56,TSH-58,TSH-59,TSH-60,TSH-62,TSH-63,TSH-64,TSH-66),2 pairs each,26 pairs totally; Screws necessary for installing are enclosed free for every hinge.

3. great spring hinges kit for wood frames,specially recommend to wood frames designer,or new makers.