Ship in 2 working days by express;
5-7 days to be received after payment is received.

Please ask for one paypal invoice individually if air mail is prefered, 10USD,15-35 days to be received.
Features:
Suitable for wood eyeglass,aluminum sunglasses which has problem for soldering.
The front of hinge is designed by installing by rivets,but you could also use screws and nuts for matching, for temple part of hinge, the small spacers on the back of hinge will hold in your frame temples firmly by screws,never move around.
This hinge could be installed directly on the surface of your glasses, even no recess are needed to be made in advance,but one recess to let your hinge sink in the frame will looks your frame better.
For convenient our customer, the rivets and screws which are necessary for installing are matched free.
For front::4.4mm shaft length,6.0mm shaft length self-tapping screws available;
for temple: 2.5mm,3.0mm,3.5mm shaft length screws available;
Material: high nickel;
Drawing: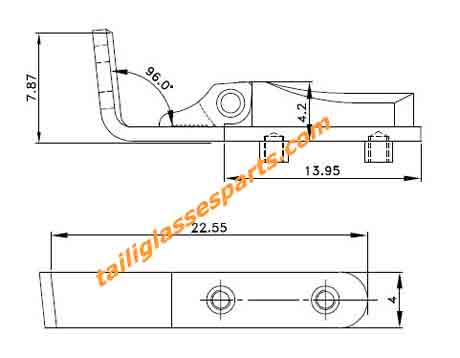 eyeglass after installing TSH-05 hinge: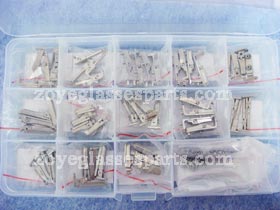 13 types of most popular spring hinges for wood sunglasses,wood eyewear
1. Mode: TAH-15: 125USD/BOX.(MOQ:1 BOX)

2. the most popular and useful spring hinges kit so far for wood sunglasses,including 13 types (TSH-05,TSH-10,TSH-52,TSH-53,TSH-55,TSH-56,TSH-58,TSH-59,TSH-60,TSH-62,TSH-63,TSH-64,TSH-66),2 pairs each,26 pairs totally; Screws necessary for installing are enclosed free for every hinge.

3. great spring hinges kit for wood frames,specially recommend to wood frames designer,or new makers.