Contact Info:
Email:
sales@tailiglassesparts.com
info@tailiglassesparts.com
Tel:0086-576-87339070
Mobile: 0086-13735770630
Shipping time: in 2 working days by express;

How soon to receive: 5-7 days to be received after payment is received.

Please ask for one paypal invoice individually if air mail is prefered, 10USD,15-35 days to be received.
Features:
material:high nickel;
type: suitable for wood sunglasses,wooden eyeglass etc.
size: 4.8mm base size with 3.8mm spring hinges loaded,10 degree incline on the bending position.
matching: 4.0mm shaft length of self-tapping screws.
This hinge is super easily installed by self-tapping screws and glue only.
detailed drawing: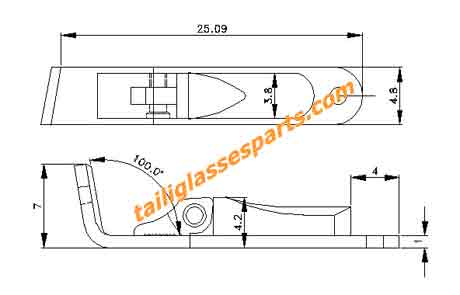 sunglasses after installing TSH-51 hinge: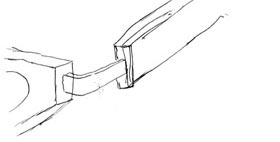 (waiting for showing your frames here.)
Related hinges you may interested in: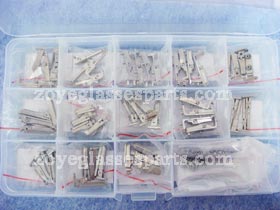 13 types of most popular spring hinges for wood sunglasses,wood eyewear
1. Mode: TAH-15: 125USD/BOX.(MOQ:1 BOX)

2. the most popular and useful spring hinges kit so far for wood sunglasses,including 13 types (TSH-05,TSH-10,TSH-52,TSH-53,TSH-55,TSH-56,TSH-58,TSH-59,TSH-60,TSH-62,TSH-63,TSH-64,TSH-66),2 pairs each,26 pairs totally; Screws necessary for installing are enclosed free for every hinge.

3. great spring hinges kit for wood frames,specially recommend to wood frames designer,or new makers.

E-mail: sales@tailiglassesparts.com, info@tailiglassesparts.com
Address:#56-1 Longxin Road,Damaiyu Economic Development Zone,Yuhuan,Zhejiang ,317604,China.