Contact Info:
Email:
sales@tailiglassesparts.com
info@tailiglassesparts.com
Tel:0086-576-87339070
Mobile: 0086-13735770630
Home
>>
eyeglass hinges buy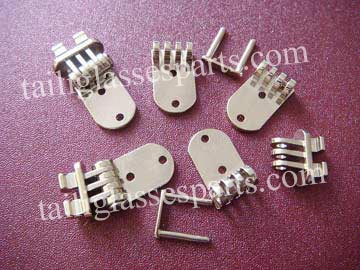 click above to see large image
Shipping time: in 2 working days by express;

How soon to receive: 5-7 days to be received after payment is received.

Please ask for one paypal invoice individually if air mail is prefered, 10USD,15-35 days to be received.
Features:
This hinge is mostly used on plastic eyewear, acetate eyeglasses.
Installing way:
The front hinges are molded or melted into plastic frame fronts, the temple hinge is installed by rivets or screws. For convenience purpose,they are matched completely free for retail order when customer makes the option when ordering.
Available screws or rivets for installing temple hinge:
self-tapping screws: 4.2mm shaft length; 6.0mm shaft length (point-ended).
single rivets: 5.0mm shaft length, 6.0mm shaft length,7.0mm shaft length;
double rivets: 5.0mm length only;
Please note the screws or rivets are matched free as per your choice for retail orders.
Size: 6.1mm width, 4.0mm height, front hinge:8.0mm base, 7.7mm height);
drawings of rivet hinge TH-30: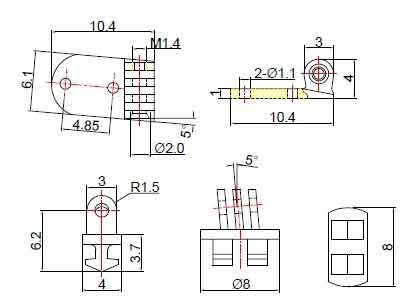 Related products you may interested in: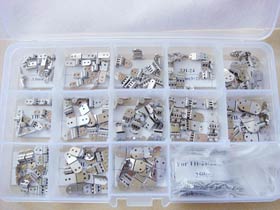 1. Mode: TAH-02: 160USD/BOX.
(MOQ:1 BOX)
2. 13 types(TH-21-TH-35),5 pairs each,65 pairs totally.

3. size: 3.0-8.0mm; with screws for installing onto frames matched free.

4. a great universal hinges kit for all kinds of eyeglass,specially recommend for designers and new makers.
E-mail: sales@tailiglassesparts.com, info@tailiglassesparts.com
Address:#56-1 Longxin Road,Damaiyu Economic Development Zone,Yuhuan,Zhejiang ,317604,China.