Features:
One model which are very similar to TSH-08 and also suitable for wood eyeglass,plastic frame etc which has problem for soldering,especially suitable for plastic front and wooden temples.
Size: 5.5mm wide base with 3.8mm wide spring hinge soldered; without plating;

How to install: firstly,make one hole in the frame front,make recess on your glasses temples as per our hinge,then use the glue in front and use screws for locking on the back.
For convenient our customer, the screws which are necessary for installing are matched free.
Material: high nickel;
Drawing:




eyeglass after installing TSH-09 hinge: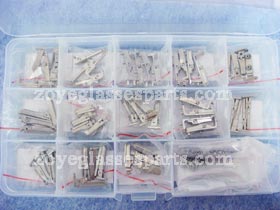 13 types of most popular spring hinges for wood sunglasses,wood eyewear
1. Mode: TAH-15: 125USD/BOX.(MOQ:1 BOX)

2. the most popular and useful spring hinges kit so far for wood sunglasses,including 13 types (TSH-05,TSH-10,TSH-52,TSH-53,TSH-55,TSH-56,TSH-58,TSH-59,TSH-60,TSH-62,TSH-63,TSH-64,TSH-66),2 pairs each,26 pairs totally; Screws necessary for installing are enclosed free for every hinge.

3. great spring hinges kit for wood frames,specially recommend to wood frames designer,or new makers.