Description:
This hinge is suitable for combination frames,plastic front with bamboo or wood temples or complete bamboo or wooden frames.
It's similar to TSH-57,but wider and stronger spring hinge than TSH-57.Comparing to TSH-56,this hinge don't need super glue for customers,as it enable the screws locking on the end of hinge from the downside of temple.
Special spring hinge design avoid the rocking problem after it's installed onto frames,the inclination design of front hinge make your eyewear more compatible with your face.
Screws: be matched automatically free;
Material: high nickel with nickel silver color plating.
Drawing:

Drawing: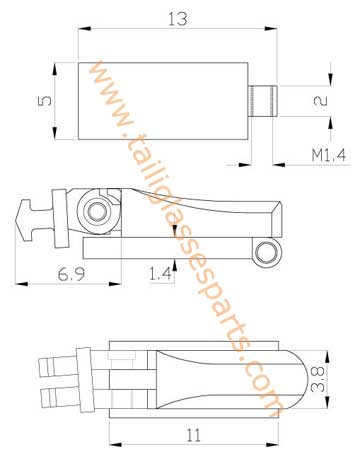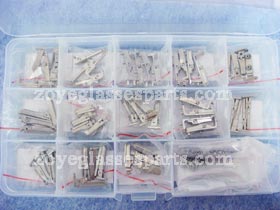 13 types of most popular spring hinges for wood sunglasses,wood eyewear
1. Mode: TAH-15: 125USD/BOX.(MOQ:1 BOX)

2. the most popular and useful spring hinges kit so far for wood sunglasses,including 13 types (TSH-05,TSH-10,TSH-52,TSH-53,TSH-55,TSH-56,TSH-58,TSH-59,TSH-60,TSH-62,TSH-63,TSH-64,TSH-66),2 pairs each,26 pairs totally; Screws necessary for installing are enclosed free for every hinge.

3. great spring hinges kit for wood frames,specially recommend to wood frames designer,or new makers.